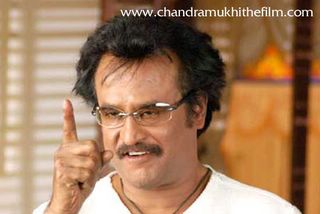 Chandramukhi - A must-see!

Statutory warning: This description reflects the character of a bunch of Indian graduate students who wanted to get away from their mundane activities and enjoy the phenomenon of their existence. Any breach of moral conduct is intentional and were forced to be temporary!
April 16th 2004, six future doctorates marched their way to the theatrical exposition of what we called "Chandramukhi", a Rajnikanth starrer. All of us were looking for a reason to feel nostalgic and touch those silly childhood memories that are filled with the celebration of the only Superstar of Tamil cinema. We drove all the way from Cookeville, Tennessee to Atlanta, Georgia. A 4-hour drive with brains all over, even the trunk of the jeep was filled with thoughts on the next day.
The day started well as we filled in our pots with atypical sambar-vadas and dosai's at the Madras Saravana Bhavan, complaining on the quality of the FDA disapproved food material at the same time running all over grabbing the chances to pick those last few vadais from the buffet. From that point on, we weren't distracted by those moral educated thoughts that the brain popped up every now and then, it was just the heart that was motivating us to find the fun in what we were doing. That took us in to the Indian stores and persuaded us to buy camphor and coconuts to take care of the eye factors that might influence the effect of Chandramukhi's success! Sounds hilarious? Initially we were looking for pumpkins or watermelons but we were forced to settle with what we had at that point! We took some videos as well as some pictures and I guess none of them turned out well. Let me work on that and try to publish them here.
No digression! We went all the way to the theatre and were pissed off to see there was just one small poster and nothing else on our beloved hero! Then we realized that it's not one of those typical Indian movie screening theatres. We had Sin city and all other kinds running along! Doesn't matter! it didn't stop us. We celebrated the phenomenon by negating the eye factors with those coconuts and camphor, followed by distributing it as prasadams to our fellow fans who were watching and enjoying what they could'nt do. Stepped in to the theater with the usual O podu's and ooh aaah's! Made sure that at least 50% of the theater had to turn themselves deaf and watch us on our favorite air products that are termed as noise pollution as well as whistles, forgot to mention that we bought some artificial whistles for the non-whistling doctoral candidates. The first scene of Rajni's 153rd celluloid appearance forced us to run to the screen and take his beloved feet! Insane! Yes it was, but blissfully saved in the medulla oblongata! The movie was filled with hero worships and celebration of the long wait. I don't want to reveal the plot and any other aspect of the movie, but on the whole, the movie is a must-watch! Not a typical Rajnikanth movie that we were brought-up with, but was filled with all ingredients for a good entertainer! We had mixed emotions after watching the movie, was not as bad as the last one but clearly not his best as well! May be its impossible for him to satisfy his wide spectrum of audience. But no matter what, it was great to witness the energy and excitement that we shared with our fellow fans and was happy to know that the movie is already the blockbuster of the year!